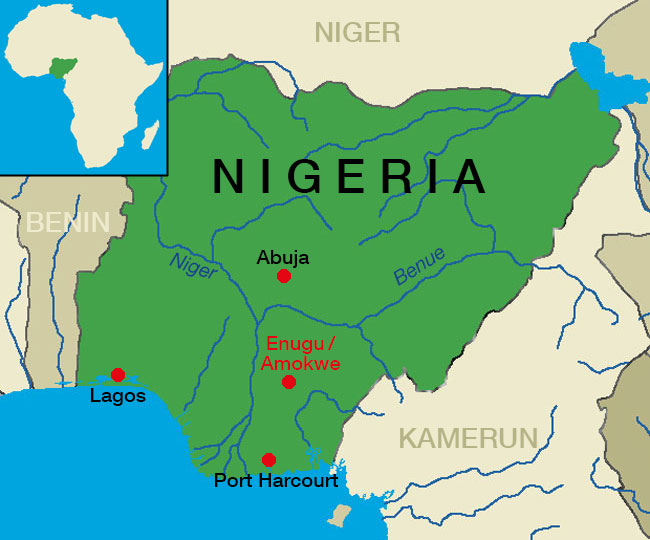 Most populous country in Africa
Despite oil revenues, Nigeria among the poorest countries of the world
Nigeria is located in West Africa on the Gulf of Guinea, bordered by Benin, Cameroun, Chad and Niger. With over 170 million people (World Bank 2013), Nigeria is the most populous country in Africa, with a yearly population growth rate of 2.8%. The country is home to over 500 ethnic groups and languages distributed among 36 states. The capital city is Abuja. Religions include African traditional faiths, Islam and Christianity. In 1960 Nigeria became independence from Britain. After the Biafra civil war (1967 - 1970) Nigeria was ruled by several military dictatorships. Since 1999 the country has had a democratically elected civilian government. At the present the Islamist terror group Boko Haram is active in the north of Nigeria.
According to 2014 figures of the United Nations Development program (UNDP Human Development Index), Nigeria ranked 152 out of 188 as one of the poorest countries of the world, - and this despite oil revenues. 46% of the population lives below poverty level. Most Nigerians are small scale business people. Agriculture is mostly practiced for one's own needs. Illiteracy is still very high: only 66.4% of 15 - 24-year-olds can read and write. Average life expectancy is 52.5 years. For every 10,000 people there are only 4 doctors available. 44% of Nigerians are younger than 15 years old. 25 million people with a special need for support (live in Nigeria; 3.6 million of them are severely handicapped. (Persons with a special need for support - PWSNFS).
Amokwe - a rural town in Enugu State
The Igbo is an ethnic and linguistic region in the southeast of Nigeria. Approx. 26 km southwest of Enugu (capital city of the state of Enugu), in the Udi Local government Area, lies the town of Amokwe. It is home to about 20,000 people in an area of 54 km2. Amokwe comprises seven villages and 36 wards. A network of earth roads and pathways connects the villages with one another. Early in 2002 Amokwe was divided into 4 autonomous local communes.
The population of Amokwe is made up of mostly poor subsistence farmers and of small scale traders. A drinking water supply has only recently become available, and, gradually, electricity supply also. Because of the low basic infrastructure and lack of educational and job opportunities, most young people migrate to the cities leaving mostly old people and children back in the villages.
The "Chibugwu Comprehensive and Vocational School" lies in the local commune of Uzoenugu-Ibuzor Amokwe. It is located behind the Udi Local Government Headquarters, approximately 200 meters from Udi Station, between the Udi - Owa-Imezi Link road and the Udi Local Government Headquarters.